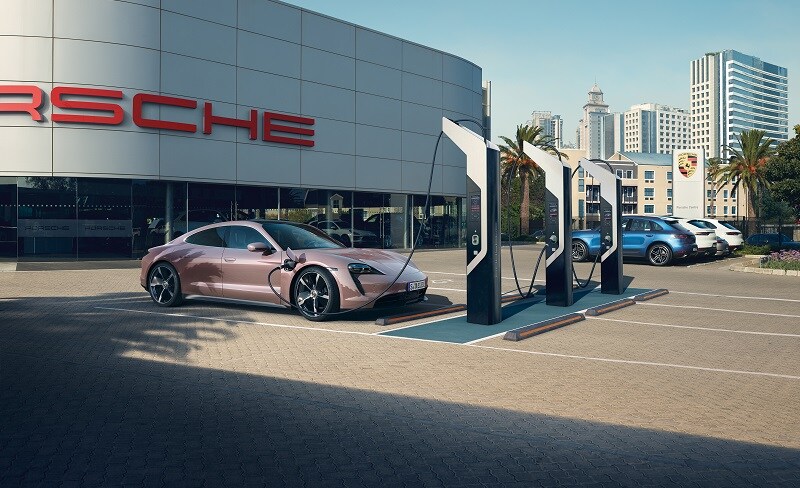 What're the Benefits of Going Electric?
Are you thinking about switching from a gasoline powered vehicle to a fully electric one? With the new lineup of Porsche electric vehicles, you can enjoy the same sporty performance, iconic styling, and upscale sophistication that you love about your current Porsche vehicle, only in one that performs entirely on electric power. As of right now, the Porsche electric vehicle lineup offers an array of new Porsche Taycan models. The Porsche Taycan is available in a multitude of models, including sedans and hatchbacks. Enjoy legendary Porsche performance and athleticism, with the ability to charge your vehicle at home and skip the pumps around Grapevine entirely.
Why Should I Buy a Porsche Taycan Electric Vehicle?
Performance and Athleticism
When you choose a Porsche Taycan model, you're not sacrificing the Porsche performance that you're used to. Every model is engineered to provide you with the same exhilarating and exciting performance behind the wheel. The only thing that's missing from the equation is the need to fill up your gas tank at the station. Throughout the Porsche Taycan lineup, you can choose three different engine setups, including:
Dual-motors with all-wheel drive that produce 522-horsepower and 472 pounds-feet of torque (Taycan 4S)
Dual motors with all-wheel drive that produce 563-horsepower and 479 pounds-feet of torque (Taycan 4S with Performance Battery Plus)
Dual motors with all-wheel drive that produce 670-horsepower and 626 pounds-feet of torque (Taycan Turbo)
Dual motors with all-wheel drive that produce 750-horsepower and 774 pounds-feet of torque (Taycan Turbo S)
All Taycan models use two electric motors that get paired to either a standard of performance battery, which is why you see different horsepower and toque outputs for different engine setups. All-wheel drive also comes standard on all models, providing you with optimal traction and control to take on the tightest corners, excel through bad weather, and even kick up some dirt when you want to get out of Southlake.
To give you an idea of the sporty performance offered in every Porsche Taycan model, the base trim can achieve speeds of 0-60 mph in as little as 3.8 seconds. If you choose the Taycan S model, you can reach 0-60 mph in as little as 2.6 seconds, providing you with the take-off speed you need to beat any of your friends off the line at the track.
Emissions
Getting to enjoy a sporty and sophisticated driving experience isn't the only thing that you'll get to enjoy about driving a new Porsche Taycan model. You'll also enjoy the peace of mind that comes with creating zero carbon emissions whenever you start your vehicle up. Porsche Taycan models have no carbon emissions and won't cause any pollution in our community around Grapevine.
Miles Per Charge
One of the main concerns that we've heard from many Porsche drivers around Trophy Club that are hesitant about switching to an EV is the mileage range. When you fully charge your Porsche Taycan model at home, you can enjoy around 201 miles of range, or around 192 miles in the Taycan Turbo S models.
Once you get home, simply plug your Taycan model into your at-home charger and you can fully charge the battery in around 10 hours. If you use a 440V fast charger, which are available at charging stations all around the surrounding Colleyville areas, you can charge your vehicle in around 1.5-hours. Using an 800-volt charger will get you from 5 to 80 percent in around 22.5 minutes, meaning that you can get right back on the road if you have a long trip ahead of you.
Are Any Other Porsche Electric Vehicles Available?
Right now the Taycan lineup are the only Porsche electric vehicles available. However, there are rumors about numerous Porsche EVs in the future, including an upcoming Porsche Macan EV. If you want to learn more about the new Porsche EV lineup, we invite you to visit us at Porsche Grapevine today and we'll walk you through everything you want to know.